The kitchen is the heart of the home. Your living room may be beautiful and comfortable, but every gathering finds people congregating in the kitchen. Family conversations are often had standing in the kitchen. From weeknight dinners to holiday meals and birthday cakes, the kitchen is where we have many special moments with family and friends.
Out of all the areas of a home, the kitchen is the area most often chosen for a remodel. In newer homes, remodeling may take place less for function than for aesthetics, especially if the homeowners see a possibility of selling the home in the future. If you plan and execute your kitchen remodeling project carefully, you can avoid or minimize costly setbacks and get a significant return on your investment.

Before Starting Your Kitchen Remodel
Before starting your kitchen remodel, make a list of the things that bother you about your kitchen. What kind of changes would you like to make in order to correct these issues? Many kitchen remodels address the following problems:
Lack of space
Outdated look
Old appliances
Awkward layout
Next, rank these items in order of priority. This will come in handy in the event that your wish list is larger than your budget. In that situation, you will need to choose which issues are the most important to you.
Next, you'll need to consider your timeline for your kitchen remodel project. Depending on how extensive your remodel is, you may need to make other arrangements for preparing meals for anywhere from a week to a few months. Will the remodel involve a demo requiring that you seal off other rooms from dust or noise? How can you plan to live around the remodeling process?
Kitchen Remodel Budget Considerations
Before you start interviewing potential contractors, you will need to determine your budget. New appliances and additional square footage can be expensive; kitchen countertops and new flooring can be more so. Do you want new cabinetry or will refaced cabinetry work well? Include the cost of small items like drawer hardware, organizational items, or decorating accessories. You'll need to price all of the components of your project. Mentally make a note that the cost of the contractors you'll be using for this project isn't included yet!
Kitchen Remodel Budget Items
Appliances
Backsplash
Cabinet hardware
Cabinet knobs
Cabinets
Contractor(s)
Countertops
Drywall and cement board
Exhaust fan
Faucet
Fixtures/furniture/decorations
Floor
Inspection/permit costs
Light fixtures
Paint and primer
Sink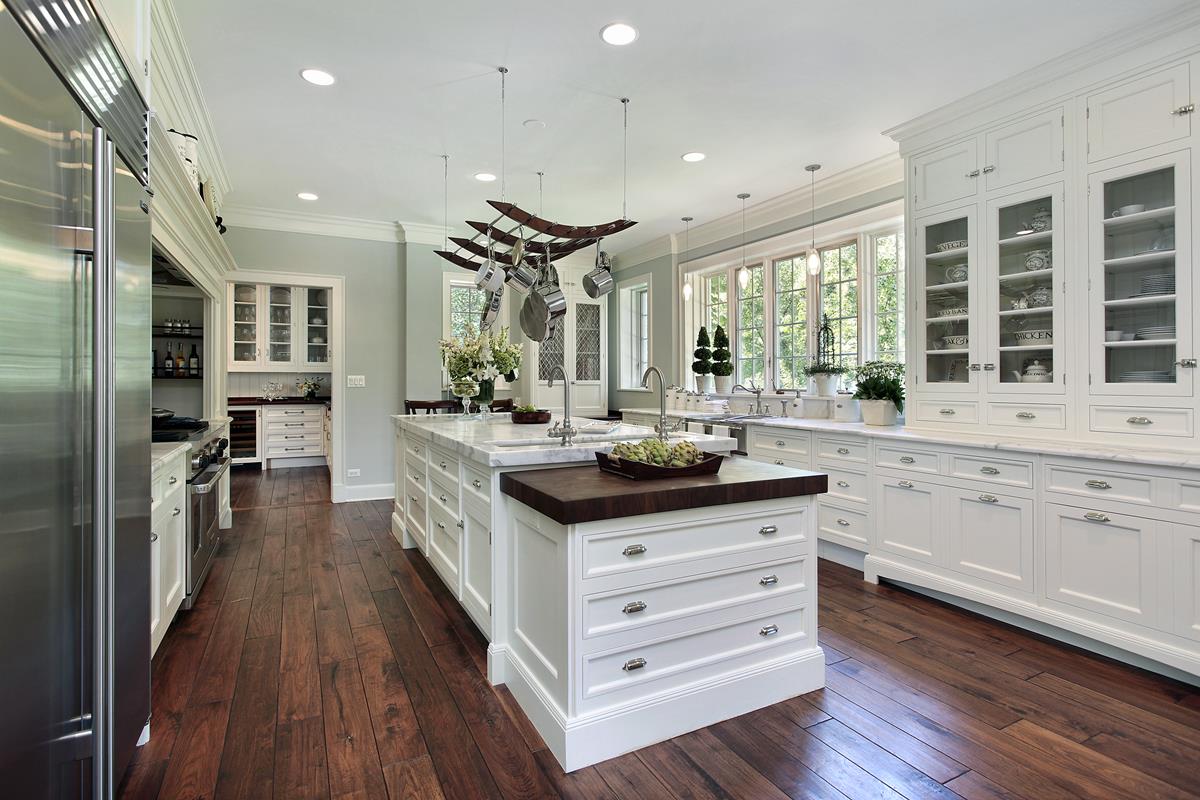 Next Steps in Your Kitchen Remodel
Choosing a design style and color palette for your kitchen will likely depend on the style and color scheme used in the rest of your home. However, there are a lot of design elements to consider within the design style and colors you've already worked on within your home.
Cabinet colors
Countertop material and color
Flooring type and color
Wall color
Hardware colors
Lighting and fixture material/color
Using a Reputable Contractor for Your Kitchen Remodel
Unless you plan on serving as your own general contractor for this project (and if so, plan to take some time off of work!) then you will need to find a reputable contractor. There are a lot of issues and potential pitfalls that an experienced contractor can help you avoid or steer you through, so finding a good one is key to a smooth kitchen remodel. Experienced contractors will know and understand the building codes involved in residential remodels. Not only will they know how to measure your space correctly to accommodate your choices, but they will understand the more technical aspects of the project as well. They'll know if gas lines need to be re-routed, and if so, how. They'll know when existing wiring can be used and when an electrician will be needed to update the wiring. A seasoned professional contractor can be an invaluable asset in the process of remodeling your kitchen.
To ensure your kitchen remodel is as seamless as possible, Modern Blu is your experienced partner. Let our team take care of the logistics and manpower needed to see your project through from start to finish. Please give us a call today to discuss how we can help you create your dream kitchen.