Ten years ago, the options for living room flooring materials were pretty cut and dried. That's not to imply that some people didn't make different choices based on their individual preferences or living situations. However, the majority of homeowners tended to follow the conventional recommendations made by their interior decorator, realtor, or perhaps sources on the internet.
Today, however, things have changed. New materials, designs, and technology developments have expanded the choices in flooring types to include some you may have avoided in the past. You can have durability and fabulous style from many types of flooring, including hardwood, engineered wood, laminate, porcelain tile, and vinyl.  Flooring materials you may have previously considered impractical are now options and you can get even more creative in your interior décor choices, creating a style that is uniquely your own.
Living room flooring is going to see more use from your family and your guests than most other areas of your home. It's important that it gives you the look you're wanting, but that's not its only requirement to meet. Your flooring needs to be durable enough to handle the daily use of the whole family, including, in many cases, your pets. It needs to be easy to clean and maintain; the living room typically sees a lot of foot traffic, visitors, and occasional food and beverage spills. The objective is obviously to have a beautiful look that can also deliver when it comes to durability and practicality.
Carpet
For many people, having a material that is warm and soft underfoot is the most desirable quality in a flooring option for their living room. Because of the foot traffic involved, the carpet for a living room needs to be very long-wearing. An 80 percent wool, 20 percent manmade fiber version can withstand this kind of use and still retain its appearance reasonably well. If pets and children are in the household, choosing a polypropylene carpet will provide you with maximized stain resistance.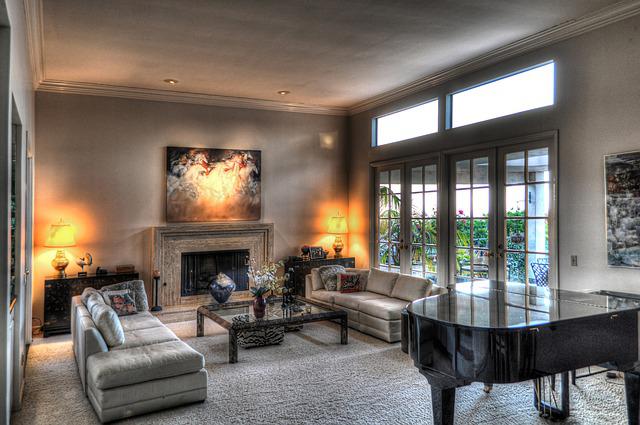 The range of colors available for carpet is incredibly extensive, so finding an option that works for your interior design plan is easy. You could also select a patterned version for a glamorous or traditional look, or go with bigger patterns for a contemporary design.
Wood Flooring
Both solid wood and engineered wood are great options for a living room area. The look of wood floors is a timeless one that never goes out of style. In addition, the variety of wood options, color tones, board lengths, and board widths means that you can find an option that will go beautifully with the style and look you want. Wood flooring is a durable one that can last for many years if cared for properly. Scratches can easily be concealed with a hardwood marker. In the event that your floor becomes noticeably damaged, solid wood can be sanded and refinished. Engineered wood may also be able to be refinished, although this may be limited to one time due to the depth of the wood layer.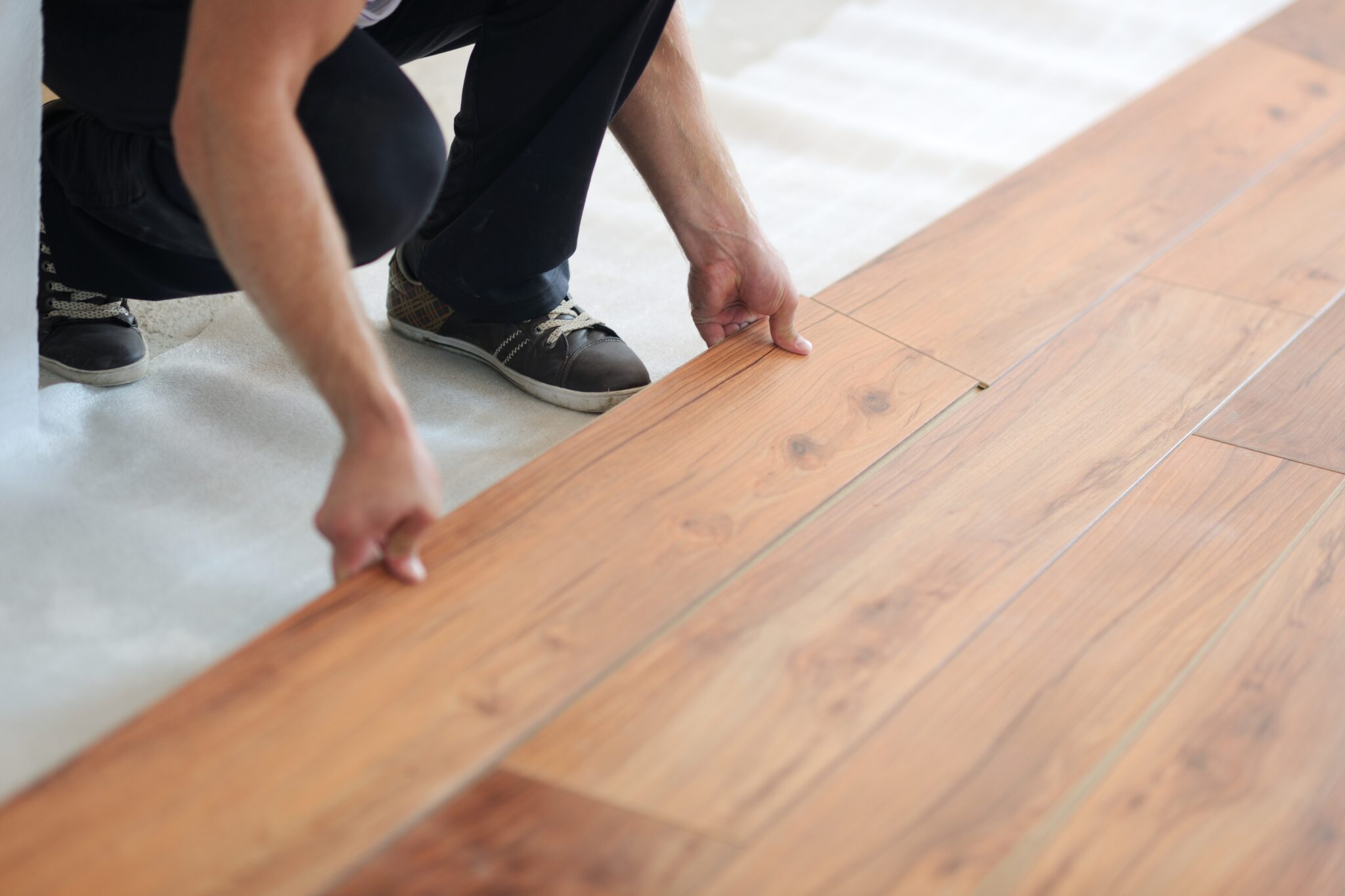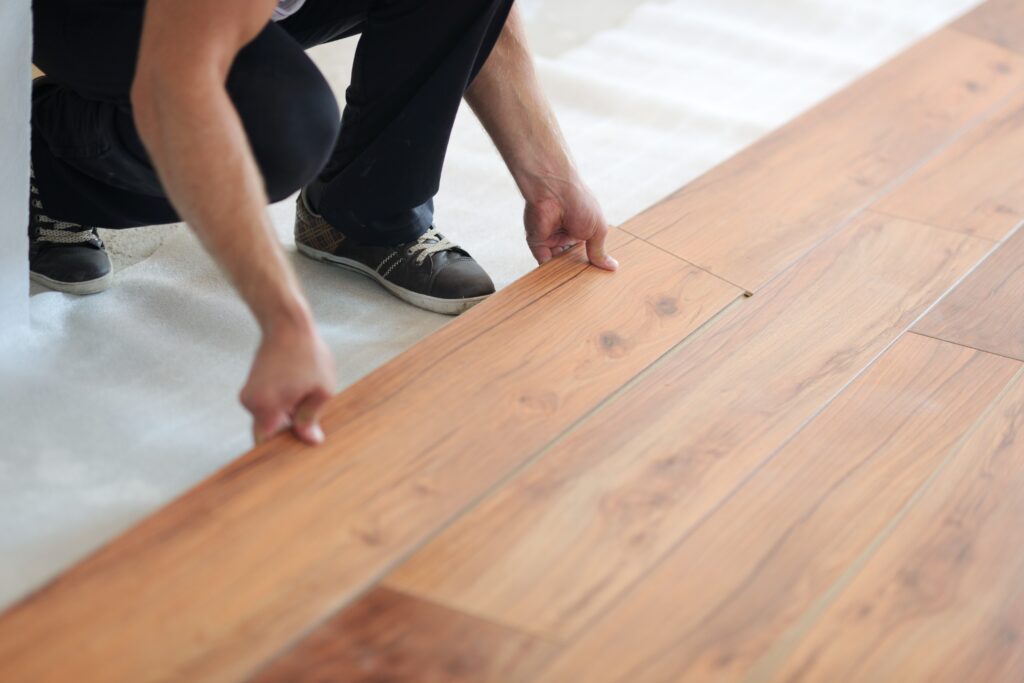 Tile
Tile flooring is hugely popular for its durability and style options. Tile resists water, dirt, stains, and wear far more effectively than carpet or hardwood. Because of its durability, it is low-maintenance and more environmentally friendly. However, the most appealing aspect of tile may be the nearly limitless number of style and color options available. Porcelain tile, ceramic tile, mosaic tile, natural stone tile (like marble, limestone, and travertine tile), porcelain tile, glass, and other materials all offer a vast number of style options that can have a big impact on the look of your living room.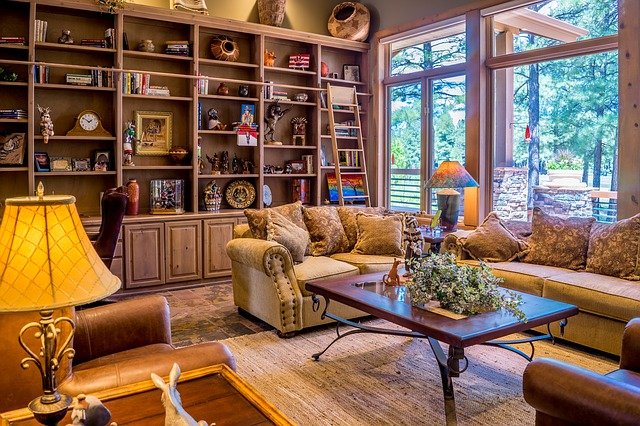 When considering tile options, you'll want to keep the size of the tile in mind, too. Large tiles will make your living room seem bigger, while small tiles can help create a cozier feel. Unglazed tile or stone tile can withstand a lot of wear and tear, so they are well-suited for living areas that see a large amount of foot traffic.
Luxury Vinyl Flooring, or LVP
Once the scourge of interior designers, vinyl is now the darling of many interior designers. Why? It can't be beaten in terms of durability AND style options. There is no reason to blow your budget on flooring when you can get the look of expensive flooring with a vinyl version. Vinyl can be made to look like wood planks, stone tiles, or a variety of other flooring materials. It is kid-friendly and pet-friendly, as it doesn't scratch, indent, or stain easily. It is also waterproof. From accidental spills to pet messes, your flooring can not only be easily cleaned, but will remain undamaged. The wood-look patterns, colors, and textures used to create vinyl planks look real, giving your floors the look and feel of wood, while providing unmatched ease of living.