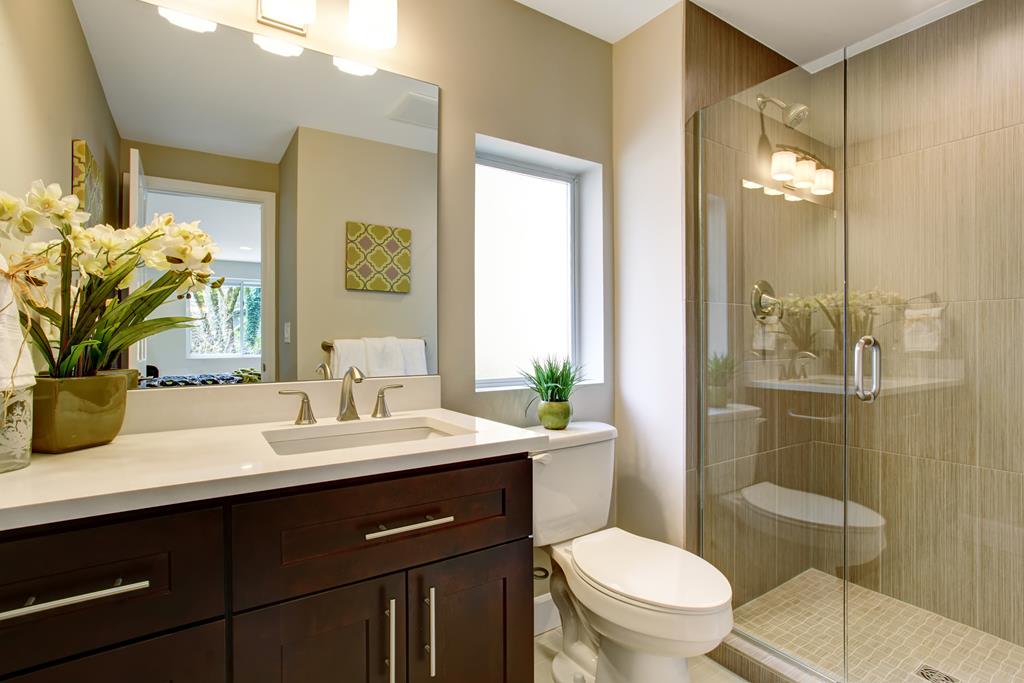 The average size of today's full bathroom is about 40 square feet. Half-baths and three-quarter baths typically range from 18 to 32 feet. Making your small bathroom feel as spacious as possible can be a challenge, but using a few of the following tricks can help!
Think vertically
A traditional vanity is beautiful and can add a wonderful style element to your bathroom, but a vanity has a limited amount of storage. Extra storage can be created by adding some shelving on the wall. However, to avoid making your bathroom space feel cramped, avoid placing the shelving in areas where you will need to walk frequently, such as above the sink or toilet. Also, don't overload the shelves with items and keep the shelving shallow so as not to protrude into the room's open space very far.
Remove bulk
One way you can make your tiny bathroom feel bigger is to avoid using a vanity that is too large for the space or any bulky furniture. If you don't need the storage of a traditional vanity, replacing it with a pedestal sink or a vessel sink can up the space visually. Bulky cabinets can be replaced with open shelving to reduce the visual clutter that may make the space feel smaller or confined.
Light it up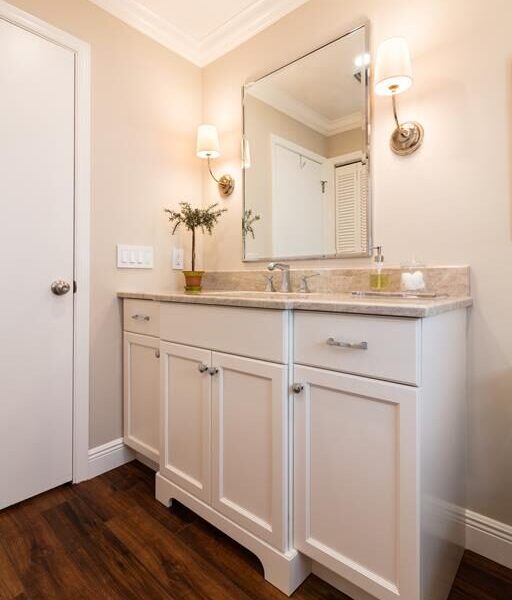 The right lighting can work magic to make any space seem bigger than it is. Lots of light and mirrors naturally make small rooms feel larger. Keep window treatments light so that as much natural light as possible is able to filter in. Add mirrors to reflect that light and make the space feel larger. The larger the mirror, the larger and lighter your room will appear. Replacing a shower curtain with a clear glass shower door or a frameless shower enclosure will open up a few extra feet and upgrade the look of your bathroom noticeably.
Go Neutral
Dark colors absorb light and make a space feel cozier. Light colors reflect light, making a space feel larger. Using light neutral colors for woodwork can blend it seamlessly with walls of the same shade or a similar one, and without a visual break, the room will seem larger. Bright white, rectangular subway tile is a classic look that is both beautiful and timeless.
Tile tricks
By using the lines of the tile, you create the illusion that your bathroom is longer than it really is. Choose a rectangular shaped tile to use on the floors and walls. If you want the bathroom to feel longer, install the flooring tile so that the long side of the tile is parallel with the floor. If you want the bathroom to feel taller, then turn the tile 90 degrees so that it's perpendicular to the floor.
Clean and uncluttered
It is important to keep small bathrooms clean and uncluttered. Clutter can feel overwhelming in a small bathroom and will greatly detract from the quality of your living experience. Having less to clean is one of the perks of having a small bathroom, however! A few minutes of daily cleaning will help you enjoy your beautiful bathroom more.