The Right Flooring Sets Off Your Bathroom Remodel Beautifully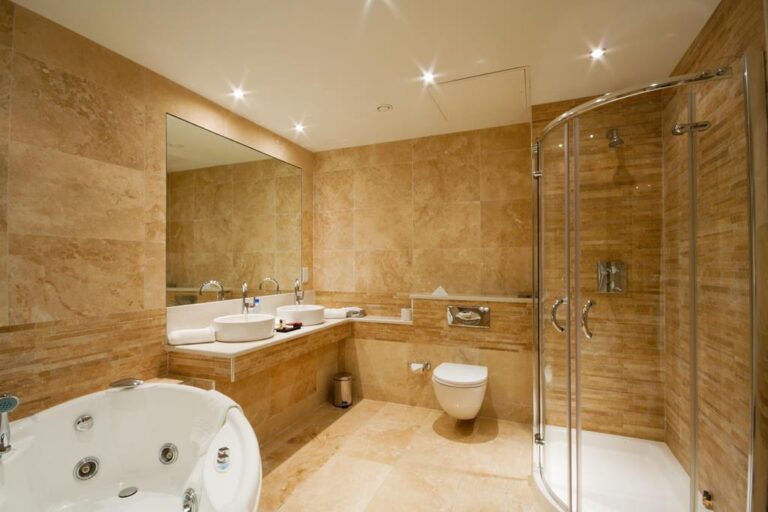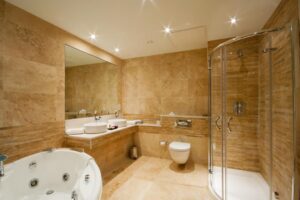 You've waited long enough, it's time to remodel your bathroom! While a number of aspects can go into planning a bathroom remodel – cabinets, shower, bathtub, vanity, toilets and fixtures – it is most important to select the right flooring.
Bathroom flooring can present a challenge because, more than any other place in the house, it has to stand up to moisture from showers and baths. Moisture can lead to a host of problems including mold, mildew, water stains, dislodged tiles, and damaged walls. Selecting a flooring that is water resistant and easy to clean provides long term benefits.
So, what is the best flooring for a bathroom?
Below are 12 of the most popular options for bathroom flooring, each having their own unique pros and cons.
Porcelain Tile
Porcelain tile is particularly well suited for bathroom flooring since it is water resistant. There's never a worry about exposure to water, so it dramatically increases its durability. In fact, Porcelain Tile is so durable that it can last a lifetime, if properly maintained.
Other Porcelain Tile advantages include being easy to clean (with a damp mop and soapy water), stain resistant, and are not easily scratched. These attributes, along with the fact that there are so many colors and designs available, make Porcelain Tile one of the most popular tile options for bathroom remodeling projects.
Some of the challenges associated with Porcelain Tile include the weight of the tiles and the fact that they can be difficult to cut for installation.  They are also more costly than some of the other options. The hardness of the tile can make it susceptible to cracking if there are structural shifts in the home. Finally, the grout can be challenging to clean.
Porcelain Wood Plank Tile
Porcelain wood plank tiles have the beauty of wood and the durability of porcelain. It is the best of both worlds for those who need a solution that is water resistant and also desire a rustic appearance.
Introduced in 2013, porcelain wood plank tiles initially had limited color and design options. As demand continues to grow there are now seemingly endless color and design options for homeowners to choose from. In fact, porcelain wood plank tile has become one of the most popular bathroom trends for 2021. With such an extensive selection, it is easy to find the perfect style for any bathroom.
Similar to regular porcelain tiles it shares the advantages of being easy to clean, stain resistant and not easily scratched. It also shares the disadvantages associated with porcelain tile including the potential expense, the weight and hardness of the tiles, and difficulty of installation.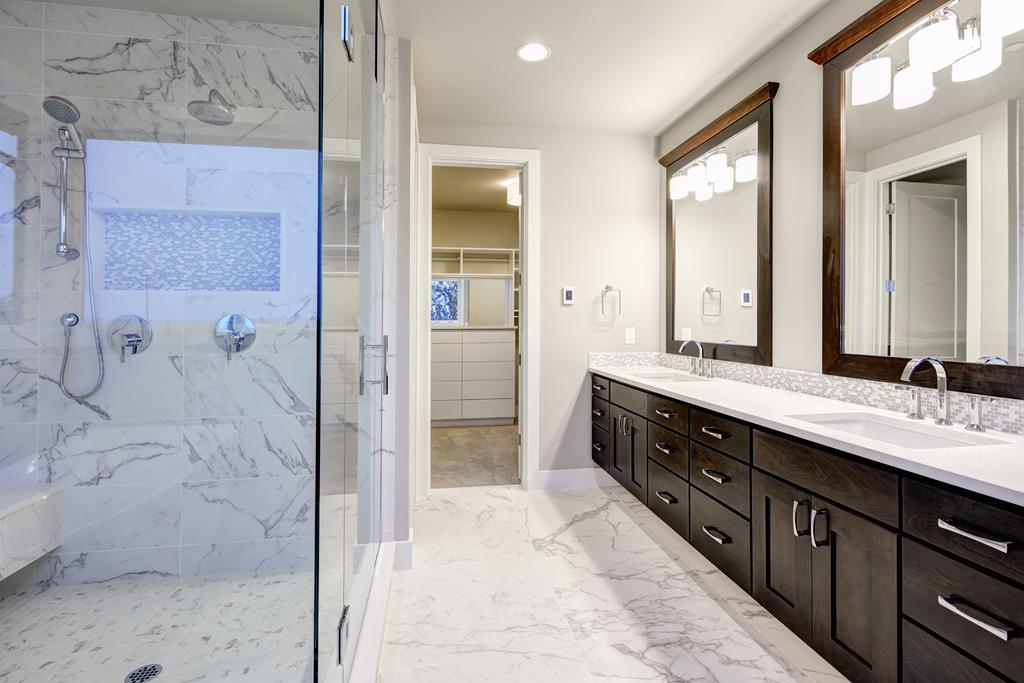 Ceramic Tile
Ceramic tiles are very popular and one of the most used types of tiles on the market. Dyes are added to the tile so there are an endless number of options – colors, designs, sizes, shapes, and finishing textures- to choose from.
Ceramic tiles, as long as they are glazed, hold up very well to moisture.  In addition, they are inexpensive, durable and can be easily maintained. These tiles are made from clay, sand, water, quartz, and other natural material.
One of biggest disadvantages of ceramic tile is that while the tile itself can be easily cleaned, the grout can be challenging to clean and may require sealing on a regular basis. It is also a very hard surface that may make it undesirable for some homeowners who find it less comfortable. The heaviness of the materials may make it a poor choice for upper story bathrooms.
Marble Tile
It is hard to beat the stunning beauty of marble tile. It can make your bathroom feel luxurious and give it a spa-like feel. There are two types of finishes for marble floors. A polished finish produces a high sheen that displays the beauty and grain of the marble. However, it can become very slippery when wet and is not typically recommended for bathrooms. A honed finish less polished, but more practical for kitchens and baths which require better traction.
Despite the unrivaled beauty of marble, there are some disadvantages that you should be aware of. The first is that it requires maintenance and upkeep on a regular basis. This is due to the fact that marble has a porous surface. To keep it looking beautiful, the marble should be refinished at least once a year with a high-quality stone sealer.
Since it is a softer, porous stone marble can scratch and stain easily. It is one of the more expensive options so you will need to decide if it is worth the expense and upkeep to have unmatched beauty in your bathroom.
Granite Tile
Many people choose granite tile because of its beauty, durability, and resistance to moisture. It also comes in many patterns and colors. These characteristics, and the fact that it is easy to clean and maintain, make it the tile of choice for many homeowners.
There are some disadvantages to granite tiles. Granite is extremely heavy which makes it difficult to install. Depending on the grade you select, granite can be very expensive. Granite can also be very slippery when wet. This can be a hazard, especially with children and the elderly.
Granite works well in Texas since it is a warmer area. If you live in a colder climate you may want to look at other options since granite doesn't conduct heat well.
Concrete Flooring
Concrete floors can be stained with almost any color and there are a number of polishes, textures, and finishes to choose from. This allows you to be as creative and stylish as you wish. This versatility is one of the primary selling points for concrete floors.
Another key benefit of concrete is that it is extremely durable and, if properly sealed, it is resistant to moisture and stains. It is also a cost-effective, low-maintenance option which makes it attractive to many homeowners.
While concrete has a number of benefits it also has some drawbacks, particularly when it comes to the bathroom or other areas where there is a significant amount of moisture. It can be cold, hard, and slippery when it is wet. If you choose to use concrete in your bathroom you will likely want a specialized finish to avoid slipping after your shower or bath. It is very heavy and can also crack over time is it isn't sealed properly. In addition, the installation can be labor-intensive and time-consuming.
Wood Flooring
Hardwood floors make a house look amazing. It can add a beautiful, rustic look to almost any room. This is why hardwood floors are such a popular flooring option. It looks so good in a house, that people often naturally assume it would look good in their bathroom.
But are hardwood floors really a good option for bathrooms?
Despite the warm and welcoming look of hardwood floors, there are some significant problems with using it in areas where there is moisture. One issue is that hardwood floors can be susceptible to mold and mildew. Wood floors will eventually experience cracks and warps from humidity. Hardwood floors are also susceptible to stains.
With so much moisture as well as the drips and spills from everyday use, wood flooring requires ongoing maintenance and care in order for it to last. If installing in a bathroom, you will need to make absolutely sure the flooring is completely level or it will lead to pooling water in certain areas which will damage the floor.
While wood flooring is a beautiful option in most areas of a home we highly advise against using wood flooring in the bathroom, especially since there are so many other beautiful options that do well in a moist environment.
Carpet
While carpet may have a few advantages – it is inexpensive and soft – there are just too many downsides to using carpet in the bathroom. Carpet soaks up any moisture and it can cause mildew and mold. Since it absorbs so much moisture it can rot the subfloor underneath which can lead to additional problems.
Carpet stains easily and will likely reduce the resale value of your home. Even the CDC recommends against using carpet in the bathroom due to health concerns caused by carpet. For these reasons, we highly recommend that carpet is not used in the bathroom.
Cork Tile
While cork tiles are not as popular as some of the other bathroom tiles we have explored, it does have some advantages. It has a softer surface which makes it comfortable to stand and walk on. It holds in warmth making and is more resistant to moisture than carpet or hardwood floors. Additionally, if any of the tiles are damaged, they are easy to replace. Another benefit of cork is that it is environmentally friendly for those who are looking for a sustainable option.
The downside of cork is that it is not as water-resistant as some of the other options. Humid environments can be challenging on cork tiles and may cause the cork to become warped. Water can also penetrate the seams and cause the adhesive to loosen.  We generally wouldn't recommend cork for use as bathroom flooring.
Glass Mosaic Tile
Glass mosaic tile can give your bathroom a luxurious look and add a level of sophistication to a room. It comes in a variety of colors and patterns, is easy to clean, and performs well in environments where there is moisture.
The biggest caution when it comes to glass mosaic tile is that it can be very slippery when wet. This can be a hazard, especially for children and the elderly. It can be expensive and the installation can be challenging. You will want to make sure the adhesive doesn't show through the tile. Additional costs will be incurred if any of the tiles need to be replaced since the tile is so expensive.
Finally, glass mosaic is susceptible to scratches and will likely need to be replaced sooner than some of the other tile options. You may want to steer away from glass mosaic tile unless you are completely sold on it as the look you are going for.
Laminate Flooring
Laminate flooring has progressed over the years and now there are a number of looks and textures available. If you use laminate in your bathroom you will want to make sure it is waterproof laminate -otherwise, it will have a short lifespan.
Laminate is generally an inexpensive flooring option and requires minimal maintenance. It is not difficult to install and many homeowners decide to install laminate as a do-it-yourself project.
Waterproof laminate is generally better suited for small bathrooms. You will want to lay down bath rugs since the laminate can become very slippery when wet. You will want to reduce the amount of humidity in areas where laminate is installed. This can be done by using a dehumidifier, opening windows, and/or running the exhaust fan. If the humidity is not managed well,  the laminate flooring can warp.
Vinyl Flooring
Vinyl is the final flooring option on our list. Similar to laminate flooring, vinyl is an inexpensive flooring option and easy to install. Many homeowners choose to use vinyl flooring in children's bathrooms, laundry rooms, and mudrooms.
One type of vinyl flooring that has become more popular is vinyl plank flooring. It comes in a wide range of colors, styles, and designs. It is comfortable, water-resistant and inexpensive.
One of the disadvantages of vinyl flooring is that it can be difficult to remove and is not an asset when it comes to improving the value of your home. It can become discolored and fade quickly. In addition, it can puncture easily. However, if you are looking for an inexpensive, quick, do-it-yourself option, this may be your best bet.
Hopefully, this has helped educate you about the various types of bathroom flooring available. The professionals at Modern Blu are available to help guide you through the process as you create the bathroom of your dreams!
Do you have any questions? Call Modern Blu, at 469-546-7636 or contact us online to schedule an appointment if you are in the Flower Mound, Highland Village or Lewisville areas.