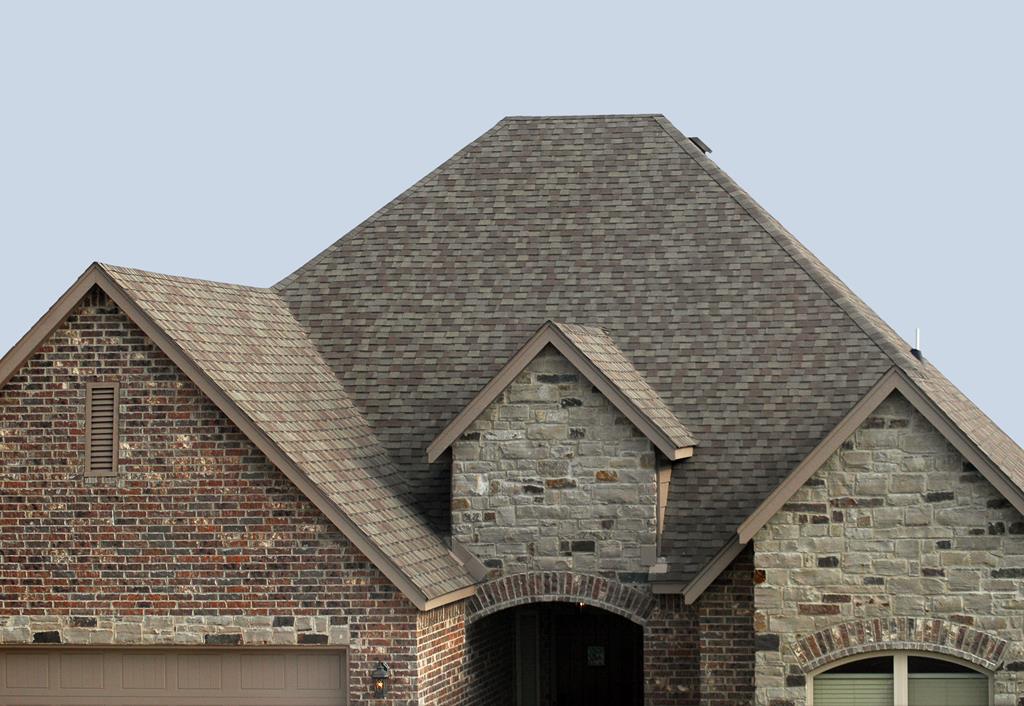 Homeowners generally don't get excited about the type of roofing materials on their houses. They much prefer to spend money on other home improvement projects like a kitchen or bathroom remodel, putting in a pool, or even painting the interior of the house. However, having a roof that is in good condition can protect the investment in your home and reduce the stress caused by a poorly maintained roof.
When your roof needs to be replaced you will have to decide on the roofing material you want to use. While most homeowners choose to replace their roof with the same materials used previously, sometimes clients choose to go a different direction. Below are eleven popular roofing materials. Some of these roof types are commonly used in the Flower Mound and greater Dallas-Fort Worth areas while others are installed more frequently in other regions or states.
As you consider the different types of roofing materials, you will want to take into consideration the long terms costs of a roof. Choosing the cheapest roofing materials may not be the most cost effective in the long term.
Asphalt Shingles
The most common roofing material in Texas, and in the United States, is asphalt shingles. In fact, asphalt shingles make up more than 80% of the residential roofing market. They are relatively inexpensive, are easy to install, and can last for around 25 years if properly maintained. Asphalt shingles are widely available in almost any location and come in a variety of colors.
Two specific qualities of asphalt shingles make them a good fit for North Texans – they provide protection against wind and are able to absorb impact. The ability to absorb impact is helpful during Texas storms and in particular during the hail season.
Despite the name, asphalt shingles contain other materials than just asphalt. They usually have a base of fiberglass or felt paper that is coated with a waterproof layer of asphalt. The shingles are then covered with ceramic granules. The fiberglass base is beneficial for a number of reasons. It is less expensive, lighter, provides significant strength and offers fire protection.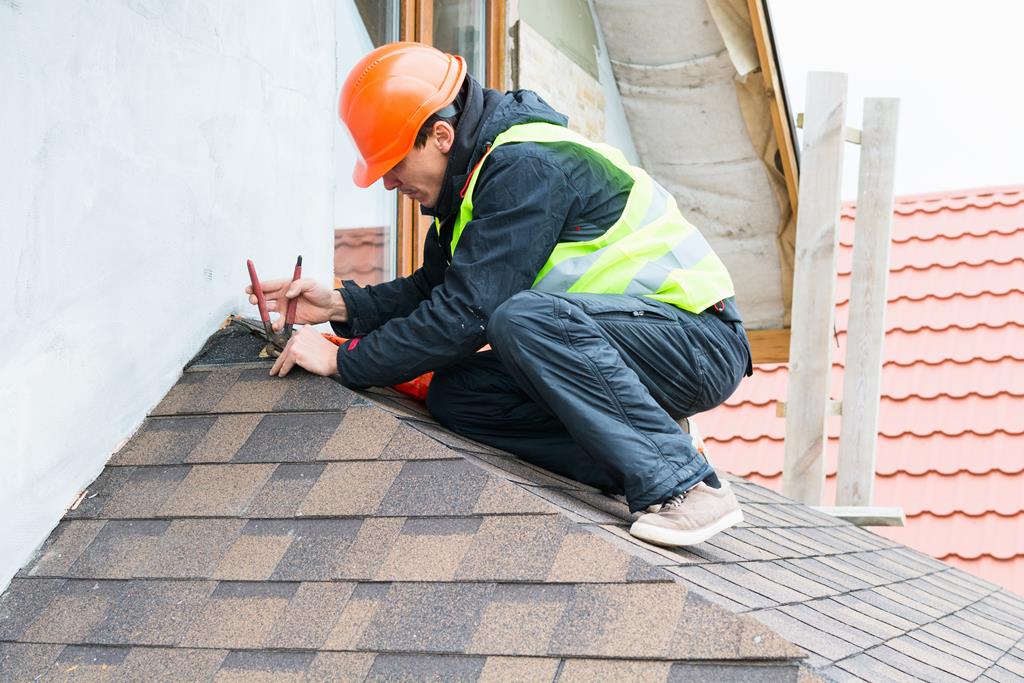 There are generally three grades or types of asphalt shingles to choose from. These are:
3 Tab Shingles
3-Tab Shingles are the most popular shingles on the market today. These are basic shingles that are comprised of 3 tabs and have been a centerpiece of the roofing industry for many years.
Dimensional Shingles
Dimensional shingles, sometimes call architectural shingles (although architectural shingles are a subcategory of dimensional shingles), are a step up in quality from 3-tab shingles. The quality comes at a higher price, but may be worth it if you desire a roof that is more aesthetically pleasing.
Luxury Shingles
Luxury shingles are made in such a way that they are more visually appealing. They are also able to protect better against strong winds, storms, and hail. They are heavier which makes them more difficult to install and adds more weight to your structure.
Metal Roofing Materials
Metal roofs are lightweight and relatively easy to install. This makes them a good option for homes that are unable to support heavier roof materials. Unlike wood shingles or shakes, metal roofing has the advantage of being fireproof and stand up well in areas where there is moisture or snowfall.
There are a number of metal roof types, but the most common type of metal roof is a standing seam roof. The steel or aluminum panels interlock to keep out the weather elements. Metal roofing is one of the most durable roofing options and can last up to 50-75 years. This is a lifetime for many houses. They are also recyclable and environmentally friendly.
For those who do not like the appearance of a standing seal metal roof, there is the option of steel or aluminum shingles or shakes. Metal shingles can be made to look like asphalt shingles, slate or clay tiles, or even wood shakes. This gives a variety of options, including a modern appearance and different colors for metal roofs, for homeowners who are sold on the durability of the metal roofing.
Wood Shingles and Wood Shakes
Wood shingles and wood shakes are both made from natural wood – usually cedar or redwood. However, shingles are made by sawing wood into thin, wedge shaped pieces. Shakes are made by splitting wood which produces thicker pieces of wood with a rough texture.
Shakes are more durable than shingles and are more aesthetically appealing. These characteristics make wood shakes more expensive than wood shingles. There are also different grades of wood shingles and wood shakes. The various grades are based on the number of imperfections in the wood. These imperfections can include things such as resin pockets, decay and knots.
There are three types of shake roof options. These are heavy split and resawn, medium split and resawn and tapersawn. Tapersawn is the most popular since it works well with almost any home style.
Wood shakes and wood shingles are usually not recommended for areas that experience wildfires. If you live in a fire-prone area look for fire-rated wood roofing products. These shingles should be treated with a fire-resistant coating. In some communities, wood shake and shingles have been banned due to their flammable nature. Wood shingles and shakes also do not do well in areas where there is a lot of moisture or experience damp conditions. Wood in these conditions can split, rot or mold.
Slate Shingles
A slate roof is one of the most beautiful roofing materials available. It has a natural beauty that is unmatched in its elegance. The stone material is installed as shingles providing a very durable roof. It is a heavy material that will require extra framing and professional installation. Many roofing contractors do not know how to install slate roofs and a poorly installed slate roof can become a huge headache for homeowners.
While slate shingles can be durable and last for a long time if slates are damaged replacing the broken tiles can be difficult. Slate comes in lots making is almost impossible to find replacement tiles that are an exact match. This, in addition to the initial cost of the slate, cause many people to choose other roofing options.
Slate is fire-resistant with the slate tiles being completely fireproof. It is an eco-friendly roof that can be recycled. Slate provides a good alternative to asphalt shingles that are not as environmentally friendly.
Clay Tiles
Clay tiles are a tough, durable roofing material. This durability makes them immune to fire and insects, but also means that the tile is very heavy. The heavyweight helps this type of roof stand up well against strong winds.  Clay tiles work well in hot climates and are often used near the coast or in desert areas.
The style for clay tile roofs is influenced by Spanish and Mediterranean designs. Clay tiles are often left unglazed and have an orange-reddish color and their appearance complements a variety of sidings, especially brick or stone sidings.
Clay tiles generally require less maintenance compared to other roofing materials. This can decrease the total cost of ownership over time.
Concrete Tile
Concrete tiles have similar advantages as clay tiles and are installed in much the same way. Concrete tiles are a heavy tile option and not only withstand winds, but also do well in areas where there are regular hailstorms. The concrete tiles are energy efficient and are more versatile and less expensive than clay tiles.
Concrete tiles are molded from standard concrete mix and are available in a number of colors. Because of their versatility concrete tiles can be used for both residential and commercial roofs. Similar to clay tiles, concrete tiles require little maintenance. They are also easy to repair if the tiles are damaged or break.
There are several disadvantages of concrete tile. These disadvantages include the weight of the tiles and potential difficulty of installation and the fact that concrete tiles are more porous and may absorb water. Finally, the concrete tiles may fade over time.
Membrane Roofing
Membrane roofing materials are used for low pitch or flat roofs. There are different types of membranes. Some of the more common membranes include:
– Neoprene (polychloroprene)
-Polyvinyl chloride (PVC)
– Chlorinated polyethylene and chlorosulfonated polyethylene sheets
– Polymer-modified bitumens
– Ethylene propylene diene monomer (EPDM). EPDM is also referred to as rubber roofing.
EPDM, in particular, is a common roof coating used in commercial buildings and is made of water-resistant thermoplastic.   It is easy to install quickly since it comes in rolls and can easily cover large areas. EPDM does well in warmer climates since it is lightweight and reflective. This helps keep the heat from being absorbed into the building. It also protected well against rain and moisture since it virtually seamless.
Rolled Roofing Materials
Rolled roofing is very inexpensive and easy to install. It is not used very often in residential or occupied buildings but may be used for sheds, garages, or other unoccupied structures. It is not a very durable type of material and other roofing materials will last much longer.
Another reason rolled roofing is not widely used in residences is that there aren't many available styles or colors with rolled roofing.  It is mostly used in buildings where appearance isn't important.
Synthetic roofing materials
A number of synthetic roofing materials are now made to have a similar look to slate and wood. Whether it is rubber, plastic or polymer there is a wide variety of choices related the look, texture, and color of the materials. Some of the materials are even made to be fire-resistant.
One of the benefits of synthetic slate shingles is that they are not as fragile and are less expensive than authentic slate. Various synthetic roofing options have a number of options that make them adaptable to various styles of houses. You will want to make sure and do your research in order the make sure of the quality of the materials.
Solar Roof Shingles
Solar panels have been around for a while, but the look of the panels themselves are not very pleasing. Now homeowners have the option of solar shingles. While they are not as energy efficient as solar panels they are designed to look like asphalt shingles giving is a more pleasant look. Solar shingles are lightweight, easy to install and do well in wind, rain, and hail.
Another benefit of solar shingles is that, if you move, they can be removed and installed in your new home. While solar shingles last from 20-30 years at maximum energy output, they will begin to degrade over time.
Some of the more popular brands of solar shingles include Tesla solar shingles, Dow solar shingles, CertainTeed solar shingles, SunTegra solar shingles, and Luma solar shingles. Some of the key things you will want to consider when selecting solar roof shingles is the cost, longevity, size, design, the number of solar panel roof shingles required, ease of installation, and the type of materials.
As you consider the various roofing options for your home, you should ask the following questions:
What is the cost for the new roof and what is your budget?
Will your insurance company cover your roof?
What roofing material is best for my environment?
What type of aesthetic will the roofing provide?
Are the materials available in the color and style you desire?
Do the materials meet the codes or requirements in your local area?
Does the roofing materials require any type of special maintenance or installation?
What is the life expectancy of the roof?
What is the warranty for the product?
Is your roofing company experienced in installing the type of roof you require?
The team at Modern Blu has decades of roofing experience and are available to help you with any roof replacement or roof repair needs you may have. Give us a call if you are in the Flower Mound, Highland Village or Lewisville areas!